Victorian Government Update | Recovery assistance post Stage 4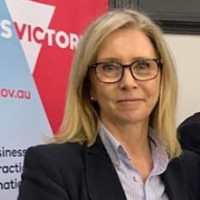 Barbara Cullen
Director, Small Business Victoria
Department of Jobs, Precincts and Regions

Part 2: Victorian Government's ongoing support for businesses as we approach the end of Stage 4 restrictions.
Stage 4 restrictions have been in place since a State of Disaster declaration by the Premier on Sunday 2nd August.
In this session you will learn about the new and ongoing support that is available to assist businesses to continue to operate in the current and foreseeable future.
Barbara Cullen has been in the role of Director of Small Business Victoria with the Department of Jobs, Precincts and Regions since 2017. Prior to this role, Barbara held the position of Chief Operating Officer of Visit Victoria (2016). Previous to working in the government sector Barbara was CEO of the Australian Booksellers Association 2004-2007 and has a background in publishing and bookselling with Page One Singapore and the Australian Institute of Architects. Barbara holds an M.B.A. (RMIT University) and is a member of Equal Workplaces Advisory Council, Business Registry Strategic Advisory Council and Gender Equality Network for Everyone.
Live 60-minute webinar
Date: Wednesday 9 September 2020 | 11:00am – 12:00pm
Price: Complimentary
Registration: book online
Webinar Facilitator: Anita Bowtell