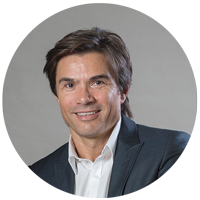 Michael Trkolta
Founder & Managing Director, WebOracle
On the Melbourne Business Network, Our Partnership, Re-branding and the B3000+ Awards Sponsorship…..
'I've been a business owner in Melbourne for over 15 years now. I first became aware of The Melbourne Business Network 3000+ Awards many years ago and always admired both the Awards and MBN organisation itself. This year my business, WebOracle, made a conscious decision to give-back to our Melbourne business community through our branding & digital services, and identified the Awards and MBN as the right organisation to align our business with because of our shared values and vision.
Since early this year, my team and I have loved working with MBN on updating the Awards logo and are so excited to be the Official Brand Partner. Because these awards are Melbourne's premier Awards Program for small business, it was important to retain the strong brand identity built over the years. WebOracle retained a similar colour palette to the previous logo and modernised it by including new vibrant shades of green, blue, purple and pink. The redesigned logo conveys and represents that the B3000+ Awards is trustworthy, sophisticated and also creates a sense of continuous growth. 
Modernising and enhancing the quality of the typeface and the colours of the logo directly contributes to the perception that the Awards are a recognised and valuable industry achievement, and I love that the B3000+ Awards recognise and celebrate the achievements of independent businesses located within the City of Melbourne, who now more than ever are going through an extraordinarily difficult time.
I am so proud that through our new role as the Official Brand Partner, WebOracle is now playing a small part in helping all entrants and Winners with increased exposure of their business and recognition of its achievements by Melbourne's business community. If there's a year that every business needs celebrating and goodwill, this is certainly it.
I can't wait for the Awards night and to learn more about all of the amazing businesses who make our great city what it is.'