20 May 2020 | Simon Purssey, 13cabs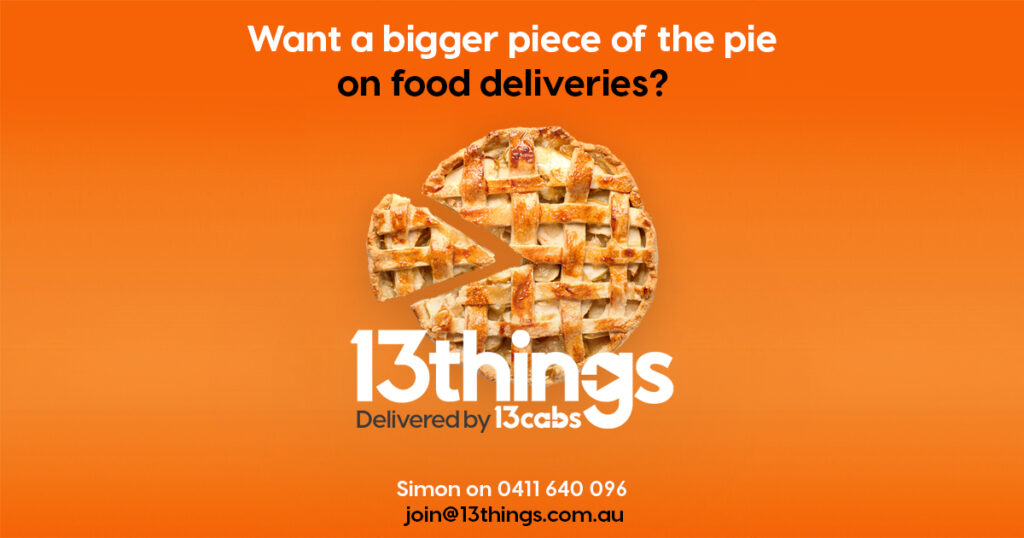 Zero Commission on Food Deliveries with 13things
Delivered by 13cabs
Frustrated with paying outrageous commission fees of 35% for food delivery platform services? Well it is time to correct the imbalance and get a greater piece of the profit pie with 13things delivered by 13cabs with its 40,000 professional Drivers and 10,000 cab fleet nationwide, 13things can make a difference to helping you regain profits.
13things, delivered by 13cabs fills an unmet need in providing restaurant and café owners with a more profitable way to take back control of their food deliveries.
13things never charges restaurants or cafes a commission fee for using their delivery service.
13things does not charge commission, so you only pay for the actual 13cabs delivery cost. Restaurant owners can then decide if they wish to pass on all or part of this cost to the customer. Delivery rates are calculated from distance travelled, so a 2km trip is around $12.00, nothing more, nothing less, that's it.
With competitors taking 35% commission, 13things is just simply a more profitable solution. We think it is unreasonable to insist on charging 35% commission for every single order. It is your business and we think you should have control over delivery costs, like you do with other aspects of running your business.
Using 13things is easy with the 13cabs booking web site:  www.13things.com.au
13things makes it simple. We have the best nationwide coverage, full time professional Drivers and excellent pick up times under 10 minutes.
Like many local cafes and restaurant owners, 13cabs is 100% Australian owned, employs local Australians and is very proud of our 40,000 strong Driver partners, professional, trained and in uniform. 13things is available 24/7 for pick-up and food delivery services.
Contact Simon on 0411 640 096 for further information or Join@13things.com.au
Simon Purssey | Head of Client Services | 13cabs